26 Feb

How to Lace Up Your Old Pumps, Wedges, and Slingbacks
You have no idea what to do with those dull black pumps? Just don't know how you can spice them up to be totally 2015? Well…just add some lace and you are so good to go!
 This DIY project, we took three pairs of old sling backs, pumps, and wedges, and gave them a fun update with a grommet tool and laces. This is a great trick for old shoes that might be stretched out or new ones that are slightly too big.
Materials:
shoes (duh)
leather laces
neon shoelaces
grommet tool kit
grommets
First, get all your materials together. Pair laces with shoes and so on.
We picked out three pairs of heels that had been gathering dust in the back of our closet.
We'll start with a pair of sling backs we turned into a ballet-inspired Mary Janes. We recommend slipping your shoes on before you punch anything. Mark the spots for holes with a pen.
Use a grommet tool to punch through the leather.
Then use an eyelet tool and pliers to get the eyelet in the hole.
Repeat with as many holes as you'd like to add, and lace up!
These are a great move for an outdoor wedding, if your'e worried about your shoes falling prey to soft grass or sand. 😉
For the wedges, we did a criss cross lace up, similar to sneakers.
Love the updated look of these wedges! The tan leather lacing matches the cork heel perfectly and jazzes up what is otherwise a pretty standard satin shoe.
And for the black pumps, we got neon with it and brought the laces around the back for a clean look that pops.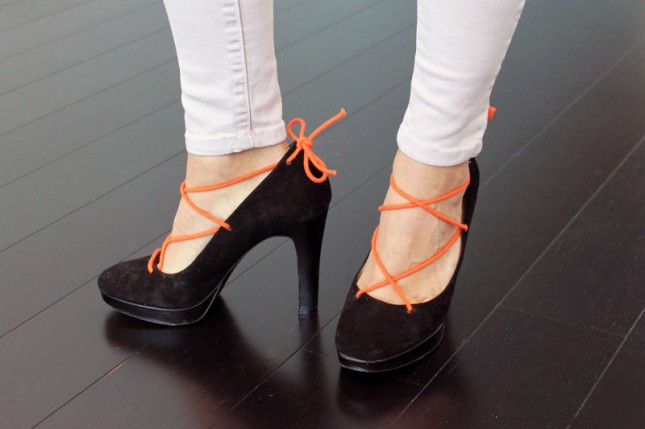 These are a great look for fall, especially if you'll be touring the Halloween party circuit.
Happy Walking!
Source: Brit.co